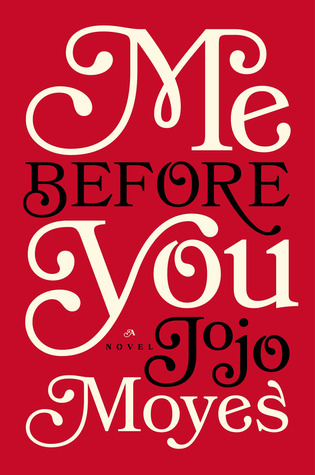 Synopsis from Good Reads:
Lou Clark knows lots of things. She knows how many footsteps there are between the bus stop and home. She knows she likes working in The Buttered Bun tea shop and she knows she might not love her boyfriend Patrick.

What Lou doesn't know is she's about to lose her job or that knowing what's coming is what keeps her sane.

Will Traynor knows his motorcycle accident took away his desire to live. He knows everything feels very small and rather joyless now and he knows exactly how he's going to put a stop to that.

What Will doesn't know is that Lou is about to burst into his world in a riot of colour. And neither of them knows they're going to change the other for all time.
*Warning: Beware of some plot spoilers, though they DON'T give away the ending*
There is just so much I love about this book. And then there's the main message of the story that I fundamentally disagree with. It's almost hard to reconcile the two, but it was a perfect example of a book that took me outside my comfort zone.
I usually read to be entertained, to maybe fall in love with a story. While I'm not opposed to big Thought Provoking books, I don't generally seek them out. But then came Me Before You, wrapped up in a romantic package, led by a character that initially reminded me of a Sophia Kinsella novel (that's not a bad thing, mind you, there's a time a place for chick lit fun) and I got so much more than I was asking for.
Will Traynor was a daredevil, world-traveling, successful, active man. Then an accident occurs that leaves him as a quadriplegic. Will cannot adjust to his new life, being paralyzed from the chest down, needing to rely on those around him. He has lost the will to live. Enter Lou. At first glance she's flighty and aimless, though cheerful. She begins a 6 month contract being Will's daytime caregiver and during their time together she begins to bring him out of his shell of depression and he challenges her to figure out what to do with her life, to travel, to make a plan. To love.
And then comes the twist. Will does not want to live as a quad anymore. He wants to die and he wants his family to take him to a facility in Switzerland that specializes in assisted suicide. His parents made a deal with him to wait and think about it for 6 months, hence Lou's 6 month contract where she endeavors to make Will change his mind. Does love really conquer all?
This is where the book became so much more than just an entertaining romance. It takes an issue that I completely disagree with – euthanasia / assisted suicide – and makes me really evaluate why I feel that way. It gives a real to life example of why it might be the right decision to make. Moyes made me fall in love with this character who is depressed and paralyzed, without any chance of getting physically better, who wants to end his pain. Is that his choice to make? Should it be? What would I want in such a situation?
Overall, I really loved Me Before You. While it didn't change my mind on the subject of assisted suicide (I still think Will is a selfish dick for even considering it – though a selfish dick I still love), it really challenged me to think and evaluate my own beliefs. I also thought the characters were wonderfully developed and the slow-burn of the romantic relationship felt natural and realistic. Despite the heavy content, it was also humorous and sweet. It was beautifully and evocatively written and left me a mess. I would definitely recommend this book.
Rating (out of 5):
Plot: 4
Characters: 4.5
Readability: 4.5
Enjoyability: 4.5 (though it left me a blubbering mess!)
Overall Rating:  4.375 stars
*Enter here for the chance to win a free kindle or Nook book e-book copy of this book or any other book I've reviewed. Contest closes 6/27/14.