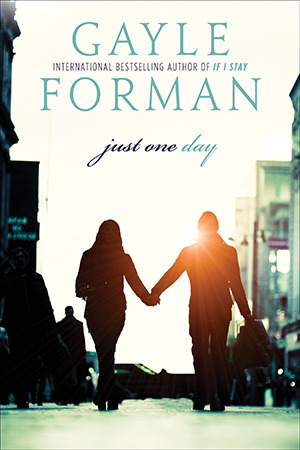 Synopsis from Good Reads:
Allyson Healey's life is exactly like her suitcase—packed, planned, ordered. Then on the last day of her three-week post-graduation European tour, she meets Willem. A free-spirited, roving actor, Willem is everything she's not, and when he invites her to abandon her plans and come to Paris with him, Allyson says yes. This uncharacteristic decision leads to a day of risk and romance, liberation and intimacy: 24 hours that will transform Allyson's life.

A book about love, heartbreak, travel, identity, and the "accidents" of fate, Just One Day shows us how sometimes in order to get found, you first have to get lost. . . and how often the people we are seeking are much closer than we know.
I just don't get it. Why is everyone so in love with this book? I will say that Foreman is a good writer. I had no problem with her prose.  Or even the general storyline. It was just where it went. So for those that haven't read it and plan on it, I will say this was just ok for me and I wouldn't necessarily recommend it. However, a lot of people really love it, so if you're a big fan of YA Contemporary you may enjoy it.
***BEWARE OF RAMBLY SPOILERS FROM THIS POINT ON***
So Allyson is a high school graduate who has moped her way through a Trip of a Lifetime in Europe. While this is a little annoying, I get it. I can personally attest that having a Trip of Lifetime thrown at you when you are not in the right head space for it does not end well. But just before the trip ends, Allyson has a personality switch and decides to skip the last event to see some artsy guy in an artsy Shakespeare production. She takes the personality change even further when she leaves her best friend and goes with artsy guy, Willem, to Paris for a day.
This ONE DAY is supposed to be magical and romantic and change Allyson's whole life. I just don't get it. I don't get why she likes Willem. Sure, he's cute and foreign and charming, but it's all in a narcissistic way. And I have no tolerance for his gypsy lifestyle.  They have a couple of moments where she "sees the real Willem" by his vague comments or a certain look in his expressive eyes, but she doesn't really know him – or his last name, or his phone number, or his e-mail address. Their day together isn't even that great, but Allyson romanticizes the fact that they avoid touristy things like the Lourve and the Eiffel Tower. When they break into a building to spend the night and she wakes up after having sex to find him gone, she freaks out. She ends up contacting her trip advisor who pays for her to reconnect with her best friend and extols these words of wisdom to Allyson after finding out he still has her super expensive watch:
"They'll do that, sometimes. Take things as a sort of trophy. Like serial killers."
So Allyson goes home and is so depressed (she thinks it's because of being in love with Willem, I think it's a cautionary tale of why you should wait to have some emotional maturity before having sex) and bombs her first semester of college. She finally decides to give herself a new start – by taking a class about Shakespeare. She finally makes a friend and he convinces her to look for Willem just so she can find out what happened. What if he didn't really leave her?
So then some boring things happen where she fights with her parents and gets a job and she goes back to Paris to look for him. She meets up with some more gypsies who help her search. And by this time I'm hoping that she DOESN'T find him. I'm thinking, what a wonderful book this could be if she doesn't find him. She finally stopped being mopey and stood up to her parents and made some friends and is feeling comfortable with herself for the first time in her life and wouldn't it be wonderful to just end it right there? She met a boy, had an odd day with him that she eventually used as a springboard to become the person she was always supposed to be.
But, instead, after some amazing coincidences (or Accidents or Fate) she finds Willem in another country. He's performing Shakespeare. And he has a girlfriend. Or just another girl. And she decides the door has closed and SHE'S FINE WITH IT. She doesn't approach him and is in fact planning on leaving again. Then she realizes that since her day with him she's grown so much and she just needs to be brave enough to tell him all about it. So she goes back after him. She introduces herself (because, yes, this guy she's in love with never bothered to ask her real name) and he's surprised.
The end.
What? So has he been looking for her? Does he think she's a crazy stalker? Are they now in love forever? Does he start following her on Twitter? I feel like I must read the next book now. But I don't want to.
And am I the only one that really hopes their relationship ends in nothing more than friendship? I would find it so much more satisfying for Allyson to just grow into herself and not for a guy.
Rating (out of 5):
Plot: 2
Characters: 1.5 (Allyson is well developed, no one else is even close)
Readability: 3
Enjoyability: 1.5
Overall Average:  2 Stars